Su Yin's cooking for dinner!
Last Friday, a sudden good idea from me, yes me Jason Lau decided where to head for dinner. Its none other than Su Yin's house to try her German-cooking skills! Jeff helped by chopping ham and cheese in different sizes which includes coming in trapezium la, square la, triangle la. Just kidding, his cutting skill is alright.
The cook Su Yin and her apprentice Jeffry CCC!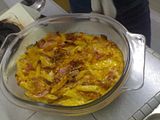 Walah! Fresh from the oven. Su Yin's German Pasta.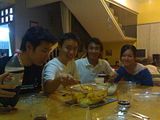 Jem Jeff Jin Su Yin and me taking the pic.
The food was stupendous! Amazing! The pasta was so cheesy and hammy it blends all together into your mouth creating the most utterly delicous taste that I've ever eaten pasta in my whole 18 years. Suyin Koche Layka!*Suyin's cooking is delicous!* Layka! Oishi! Ichiban! Delicous! Hao Chi! Ho Jiak! Hou Sek! =P