Bon Odori and PCD
My blog lives!!!!!!!!! After countless times of procastinating, I'm now back to blogging. Bon odori was held like few weeks ago? I derno..its been a while. Anyway we reached the venue quite late and only managed to catch the dancing part. No jap chix but only jap kids for paedophiles to feast their eyes with =( Wanna try Jap food? Might as well head over to the nearest Jusco Supermart to get it. They were the suppliers that night. Sad sad.. at least there were entertaining stuffs to see looking at how people dress up that night. Cosplay to pyjamas, guess they just got out of bed and head straight for this event without even thinking of ever changing their clothes. They even brought along their pacifier. Respect! Here's how part of the dance is like presented by Yi Ping, Jeffry and Jeremy! Enjoy!

Kindda reminds me of the KungFu Hustle movie where there's the axe gang dancing.


So 2 weeks after bon odori. PUSSYCAT DOLLS CAME! WOOT! HOT! Superbly Sexy! But babi...the concert was like an hour only -.- Some freaking lucky guy got to hold one of the dolls hand and get to meet them up in the pool summore! OMG! I wonder what they did there. Something naughty? HmmMM* Anyway another short video of them performing their latest single buttons! Too bad they didnt wear anything with buttons, couldda went up there and loosen up their buttons if there were any >=) The videos aren't really clear but I suppose you can see them dance. Enjoy!

Overall, the show was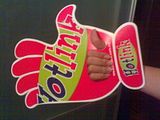 . Now if only I was that lucky fella, who knows what I'll do. Muahahaha!!!
naughty thougts coming into mind*